​MUSING WHILE I WORK
by Clare O'Brien
​

What was once a virtual symbol has become a virtue signal...

It's Remembrance Sunday. As I write this, princes and politicians are laying wreaths at the Cenotaph, and the great and the good of Britain are parading down Whitehall behind the tattered human remnants of wars and police actions.

When I was a child in England, our family always watched the remembrance services. The evening event at the Royal Albert Hall, with the poppy petals descending from the ceiling like red snow. The wintry solemnity on Sunday morning, which we even attended in person once or twice. My grandfather had been seriously disabled by a gas attack in France during World War I, and my father had narrowly escaped death in Palestine during World War II when his jeep went over a land mine. I grew up with a sense that I was lucky to have been born. That I owed a great deal to the sacrifices made by those not as lucky as my own forebears; those whose lives had been cut short, who never got to have children and watch them grow up.

So I always bought a poppy from the

men and women from the British Legion

with cardboard trays and collecting boxes who stood outside shops in the high street., and I wore it every day. I knew it didn't matter whether you put in 5p or £5 or £50; the poppy you wore was the same, made by veterans, worn for remembrance and respect. The Queen and the Prime Minister may have got to leave their oversized wreaths at the Cenotaph, but it didn't make them better than me when I dropped my pocket money into a jangling tin and picked out my paper flower and my pin. ​

I'm middle-aged now. I think the changes surrounding remembrance have been gradual, which is why I haven't much noticed them until now. They say a frog doesn't notice the water it's in getting hotter until it's being boiled to death, and maybe it's the same thing with freedom. The first insidious signs of change came when celebrities and public figures were attacked in certain quarters for not wearing poppies on television. Most had always done so, but what is the value of an emblem of support if it's not chosen freely? How can someone be forced to remember, forced to sympathise?

Worse, forcible poppy-wearing started to become associated with the so-called "patriotism" of the re-emergent far-right in Britain, the same vocal minority who had already co-opted the English flag of St George and were fast doing the same with the British Union Jack. These factions attempted to turn a non-aligned symbol of memory and regret into a political emblem. There was some attempt to turn this aside by those who chose to wear "pacifist" white poppies, but damage had been done to what people were increasingly beginning to think of as a brand.

I live in a rural Scottish village, so perhaps I've been insulated from the worst of the process. Round here, things like charity collections tend to operate much as they've always done. This year, however, I was in the city in the week leading up to Remembrance Sunday. Here, the poppy-sellers of the past have been consigned to memory, replaced by concession stands in shopping malls offering "official poppy merch".

---

​This was a serious psychic jolt for someone raised on the idea that the size of your donation had nothing to do with the size of the emblem. Here were fancy enamelled badges and pins for sale, along with poppy-emblazoned tote bags, T-shirts, mugs, teddies and earrings. There are even websites - a

posh one

with "fine jewellery" for England,

cheap and cheerful

for Scotland - where you can order up more swag, with categories conveniently arranged as to price. What was once a virtual symbol has become a virtue signal, with plenty of opportunity for you to display your superior level of remembrance, your upmarket patriotism via your purchase of

£750 diamond poppy cufflinks

or a

£30 decanter set

.

I do understand that the objective is to raise money to help those whose lives have been vandalised by war. My father, the one who nearly got blown to bits by a land mine, always taught me that cynics were people who knew the price of everything and the value of nothing. And I wonder how many people "shopping" at the poppy merch stands and online shops, the people who criticise and shame those who don't join in, are more attracted to the remembrance brand than the reality of what was endured by those who fought for freedom they no longer seem to understand.

Poppies for young men, such bitter trade

All of those young lives betrayed.

- Sting,

Children's Crusade

Archives

RSS Feed

ABOUT

Writer, communicator, gardener. Based in the Scottish Highlands.
​Interested in the arts? Check out my other blog, Artwhacked, or go to my website.
Powered by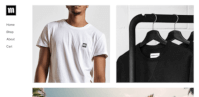 Create your own unique website with customizable templates.