JOURNALISM
Between 1984 and 2008, when I went over to the public relations "dark side", I wrote and published hundreds of reviews, articles and interviews in a wide range of publications both in the UK and abroad. Most of what I've published since then has been fiction and poetry, though I did squeeze in the odd freelance job. In no particular order, here are a few favourites from my non-fiction clip file over the years.​​
Here are a couple of contrasting music reviews; the first, from Zero magazine, looks at rock band Audioslave's 2005 Live in Cuba DVD, the second is a review from HMV Choice of 2007's triple-CD collection of works by composer John Rutter. Both these pieces reflect episodes in my career; in the early 90s I worked for a time as assistant to the Director of Music at King's College, Cambridge, which left me with a lifelong love of choral repertoire. Later, I spent nearly a decade working for Chris Cornell, Audioslave's singer and main songwriter.
Author Jeanette Winterson was one of my most interesting interviews. I talked to her for
Books
magazine in 1989; I'd been warned she was difficult, but found her charming. We sat on a bench in Soho Square and discussed her early life as a Pentecostal evangelist, her commitment to conservation, her love of Eliot and Calvino and her latest novel,
Sexing the Cherry
. Nine years later,
I interviewed Chilean playwright and activist Ariel Dorfman, author of
Death And The Maiden,
for
The Good Book Guide
. Giving interviews to promote his memoir
Heading South, Looking North
, he was immensely erudite, hugely entertaining and unexpectedly funny. This is one of two pieces based on that conversation.
It's always wonderful when you get the chance to write about some of your own favourite works of art. From HMV Choice, here's a review of a 2008 recording of Sir Edward Elgar's masterpiece The Dream of Gerontius; and from arts website Counterculture, a review of Radiohead's all-too-prescient 2003 album, Hail To The Thief.
By 1991 I was already a huge David Lynch fan. I wrote this news piece on Twin Peaks for UK rock paper Sounds, right after the identity of Laura Palmer's killer was revealed.​ It was a nice weekly to work for, and as one of their regular TV and movie critics I got to spend a lot of time in plush Wardour Street preview theatres. I was sad when the title eventually went to the wall.
I'd reviewed his music before in print, but in June 2007, I had the chance to interview
Chris Cornell
in person at London's Astoria Theatre. Having left Audioslave, he was at the start of a new solo phase of his career with a big, bold James Bond song to his name, a brand new touring band and a new album,
Carry On
.
We both enjoyed the conversation so much that he offered me the chance to continue it in Glasgow the following month, and in 2008,
Chris offered me a job working for him as a writer and researcher. My duties later expanded to include webmastering and social media management.
The original in-depth interview appeared online in full, while shorter edits were published in the UK's online music mag
Subba-Cultcha
and in print in the
New Zealand Herald
[below]. You can read the complete and unabridged two-parter
on my blog
.
At the end of the above interview, I gave Chris a copy of the latest issue of a literary journal called Libertine, which welcomed off-beat articles on poetry and song lyrics. My rather audacious contribution argued that Cornell could be in some ways considered as a modern-day metaphysical poet. Chris seemed to rather like the idea.

​MORE TO COME......
Powered by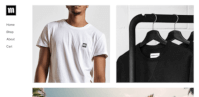 Create your own unique website with customizable templates.